This month we're playing it easy and giving you not one, but two options for your cards!
It's either
Halloween or the colors Purple,Orange, Black or all 3! And without further ado, here's my card
I colored up the not-so-scary Halloween Tilda with my watercolor pencils and used paper, cardstock, ribbon and pearls from my stash. Sentiment is handwritten as usual. :)
That's it for me today folks. hope you're inspired to join us this month. You might just get lucky and win a $10 voucher from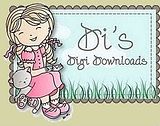 Until next time, craft on!