Hello my lovelies! Did you miss my tutorials? Well, I'm here today with a quick and fun project.
There are so many possibilities that even your kids can make their own version of these bookmarks!
For the first method, you'll need:
Plus some ribbon and beads (optional)
And you know what makes this a wonderful recycling project? You can use any clear packaging that you might well have at home! Hooray!
First, cut your transparency sheet lengthwise into wide strips, or in my case, an scalloped oval.
Then, using a hole punch, make a small hole. This is where the ribbon should go.
Now to apply the rub-on image, you'll want to cut around the selected design carefully with your scissors to remove it from the sheet of Rub-ons. After that, position the image over your bookmark to make sure everything fits.
The Eiffel tower was a little bit bigger than my bookmark so I had to crop some bits from the bottom. Oh well..
The next step is to peel off the backing and carefully position the image, sticky side down, on your bookmark. And with a Popsicle Stick or any similar tool, start rubbing and rubbing, and rubbing some more!
After you've firmly rubbed over the entire design, slowly pull back the protective sheet from the transfer. If any part of the design hasn't completely adhered to the bookmark, don't panic! Carefully place back over and rub again.
And voila! Here's your bookmark after applying the rub-on image.
Now I wasn't sure how durable it would be considering that transparency sheets are not that much of a porous surface and I was afraid that it might get rubbed off just as easily as it was rubbed-on!So what I did was coat it with a thin layer of spray sealer, and sure enough, it did the trick! You can use Mod Podge, too. The only downside would be the visible brush strokes. But if you ask me, I can live with that!
The last step is to add a length of ribbon. And some pretty beads just for the fun of it!
P.S. I have Blog Candy!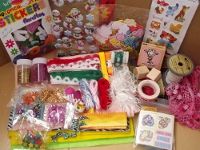 Click on the picture to go to the candy post.